Interested In Joining Our Team?
Hardman Construction is a leading deep foundation and bridge contractor serving the Midwest. Our company is proud of its superb reputation throughout the construction industry as an excellent place to work. We are dedicated to providing our employees with not only a safe and satisfying work environment, but a rewarding and lasting career! We invite you to complete an employment application.
Hardman Construction Employs: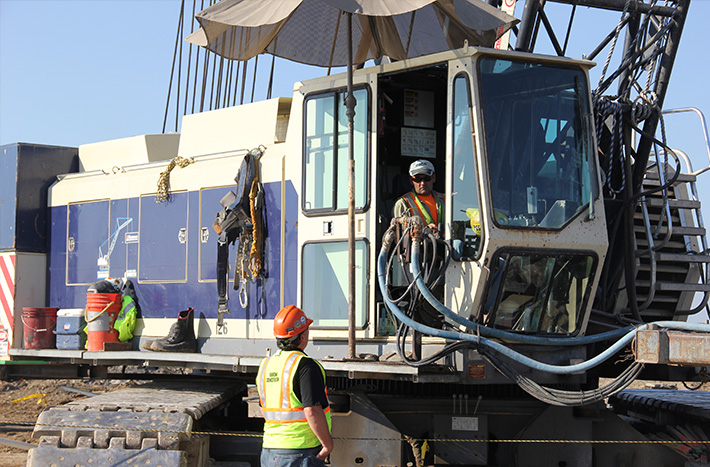 Craft Laborers: Employees who perform a wide variety of tasks throughout all phases of construction such as:
Preparing and tearing down work sites
Assisting with placing concrete
Working with operators to get final grade
Utilizing tools like jackhammers or surveying equipment
Carpenters: Employees who follow building plans to complete numerous tasks from a project's start to finish such as:
Driving steel, concrete, or wood piling into the earth
Welding or using other techniques to join materials
Working with many different tools to complete tasks
Operating Engineers: Employees who use heavy equipment to assist with construction needs such as:
Moving earth, concrete, wood, stone, or any other heavy materials
Placing heavy construction materials such as steel beams
Operating equipment that drills deep into the earth
We also employ a number of additional staff members including: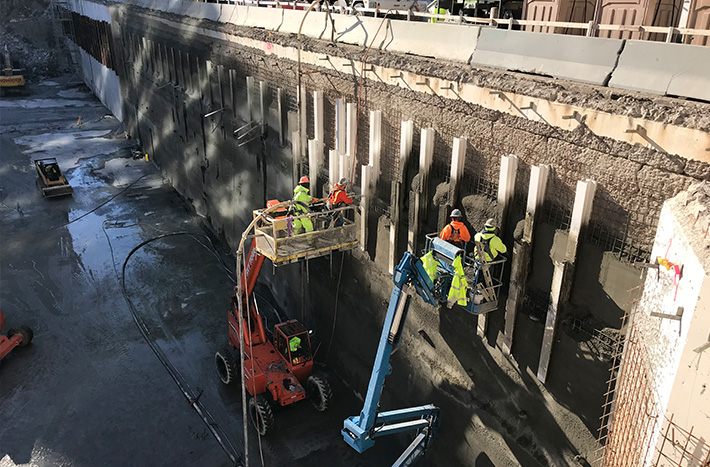 Project Managers and Engineers
Mechanics
Truck Drivers
Shop Fabricators
Administrative Personnel
For additional information on any of our positions, please contact Jami Klomp at 231-316-5324 or email jami@hardmanconstruction.com .
Hardman Construction, Inc. is an Equal Opportunity Employer.  We do not and will not discriminate against any employee or applicant for employment as specified by State and Federal regulations concerning age, sex, race, religion, creed, color, national origin, handicap, veteran status, marital status, weight, height or arrest record.
Open Positions
Shop Mechanic:
Hardman Construction is hiring a Shop Mechanic to join its team. This position is located at the shop in Ludington.  Responsibilities will include diagnosing and troubleshooting potential problems on heavy equipment, removing and installing components, using hand tools and diagnostic software, completing paperwork for work orders, testing and verifying correct operation of machinery, along with utilizing various fabrication techniques, all while maintaining safety and efficiency.
Desired Experience, Skills, and Abilities
High School Diploma required
Experience or education in heavy equipment
Ability to analyze and problem solve potential mechanical issues on a daily basis
Skilled in the operation of a variety of tools and equipment used in the repair of trucks and heavy equipment
Ability to routinely lift up to 50 pounds, as well as occasionally lift up to 100 pounds with support
Desire to live in Michigan long-term.
Compensation and Benefits
The Shop Mechanic position includes the following:
Competitive hourly rate or salary, based experience
100% employer-paid health benefits, including coverage for the employee and family
Employer sponsored 401k and retirement benefits
Training and Development opportunities, including both on-the-job training and formal training programs
Paid vacation and holidays
General Shop Employee:
Under the direction of the Shop Manager, the General Shop Employee is responsible for a wide range of duties that specifically support field personnel and construction operation. This person must be able to work in a fast-paced, constantly changing environment.
The position will be located in the shop at the Hardman Construction home office in Ludington. The majority of time will be spent welding and torching; utilizing other fabricating skills such as using various hand tools, reading prints, and paying attention to details; and numerous other duties as assigned.
Skills and Abilities
Integrity and trust
100% commitment to safety
Positive, "Can Do" attitude
Proficiency in MIG, TIG, and stick welding techniques, along with the ability to torch cut preferred
Prior fabrication experience in a shop setting preferred
Interest in working for a mid-sized company where individual efforts have an impact
Compensation and Benefits
Our Company provides a comprehensive compensation package that includes:
Competitive salary
Employer-paid medical benefits (including family coverage)
Employer sponsored 401k plan and retirement benefits
Paid time off
Continuing education and development opportunities
If interested in either of these positions, please complete an employment application and send a resume to Jami Klomp at jami@hardmanconstruction.com